Pressure Cooker Sponge Cake
For the final day of BM#35 under
Bookmarked
theme , I have prepared this pressure cooker cake that I have recently bookmarked from
Sharmispassions
. I tried a pressure cooker cake for the first time and it came out very well . It surely is a keeper recipe. So let's start the recipe yum.
Next time when you are craving for a cake and doesn't have oven you can surely bake this cake in pressure cooker.
Ingredients
:
1 cup cake flour or all purpose flour +2 teaspoon for dusting
1/2 cup castor sugar
1 teaspoon baking powder
3/4 teaspoon baking soda
1/4 cup oil (I used canola oil)
3/4 cup hot water
1 teaspoon vanilla extract
1/2 cup tutti frutti
1 tablespoon lemon juice
Method
:
Preheat the pressure poker as follows. Select the cooker in which you want to bake the cake and check the size of baking pan to be properly fit in the cooker.
Put an iron stand or the stand which we get with pressure cooker in the center of cooker. Remove the whistle and gasket (the black rubber ) from the lid of cooker and close the lid . Keep the cooker on sim heat for 5-7 minutes for preheating.
Line and dust a cake tin with oil and dry flour. Tap the extra flour and keep it aside.
Apply 2 teaspoon of dry flour on the tutti frutti and roll them in it properly.
Meanwhile Sift cake flour , baking powder and baking soda together two to three times.
In another bowl take oil and hot water , mix well . Add sugar and vanilla and mix till sugar dissolves.
Now fold the tutti Fruti in the cake batter . Mix gently. When everything is ready I.e cooker is preheated , add lemon juice in the batter and mix it gently.
You can see air bubbles forming without wasting time pour this batter in the prepared cake tin .Tap it gently on a flat surface and place it in the preheated cooker .
Close the lid as it is (without whistle and gasket) and keep the flame high for 5 minutes. After 5 minutes set the flame on low to medium and let the cake bake for 35 to 50 minutes.
After 30 minutes you may check with a tooth pick inserted inthecenter and it
if it comes out clean the cake is ready otherwise let it cook for another 10 minutes.
Let it rest in the cooker for 5 minutes more after baking on the kitchen counter. Remove it from the cooker , Cool and cut into slices.
Enjoy !!
Serve-6. Baking time 45 minutes.
Note:The total time to bake the cake depends upon the size and shape of cooker and baking tin. Mine total take 48 minutes to bake as have used 5 liter prestige cooker and a 6 " cake tin.
Don't keep the batter for long after adding lemon juice. Be cautious while placing the tin in the preheated cooker.
Check out the
Blogging Marathon page for the other Blogging Marathoners doing BM#35
Sending this entry to
Simply Tadka's 2nd Blog-iversary Event and Giveaway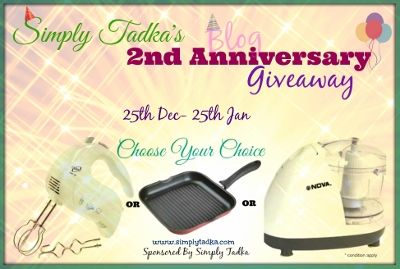 Pari's
Only Baked Treats happening at Kalyani's
Sizzling taste Buds
Nupur's
Christmas and New year Recipes event
Kirthi's Kitchen
Sapana Behl